When we think about some of the longest and most enduring relationships Powers & Sons has with clients, working with McDonald's and dozens of their franchise owners is near the top of the list.
Over nearly 40 years, Powers & Sons has completed 105 McDonald's projects ranging from ground-up new construction to restaurant demolitions and rebuilds as well as major interior and exterior renovations.
Powers & Sons has served McDonald's in communities large and small across Northeast Illinois, Northwest Indiana, and Central Indiana. We have been recognized with two speed-to-market records for new McDonald's in Chicago, with one completed in 56 days and another in 69 days, and one in Hickory Hills, Illinois that was completed in 64 days.
Our most recently completed new construction for McDonald's was a 4,700 SF new restaurant. Located at 10915 Delaware Parkway, just off I-65 in Crown Point, it opened December 29, 2022. A 20-second time-lapsed video of that build appears below.
Further south, Powers & Sons Indianapolis has been awarded a 2023 contract for the new construction of a McDonald's in Westfield, Indiana.
Recent renovation work included a series of improvements at McDonald's restaurants in Chicago on South Ashland and South Halsted. We also renovated restaurants in Carol Stream and Beecher, both in Illinois.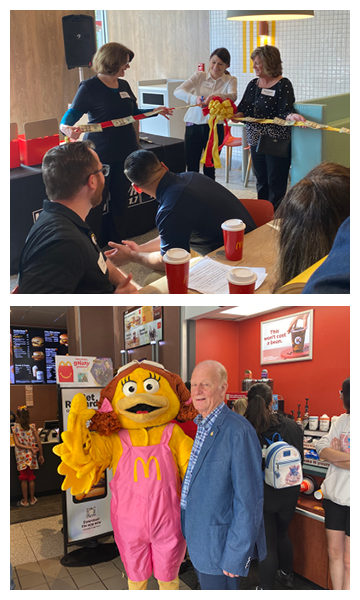 "While the outward architecture and appearance of their restaurants has changed over the years, what remains constant is McDonald's continual innovation in response to shifting consumer preferences and demand," noted Chief Operating Officer & President Claude Powers.
Whether it is adding second drive-through lanes at high-volume restaurants or installing touch screen self-service kiosks inside their lobbies, McDonald's is a leader in delivering quick-service food with a customer-centric focus.
"From a general contracting and construction management perspective, it has been impressive to witness McDonald's continued innovation. That spirit of innovation has had a major impact on their continued success as one of the world's most iconic and beloved brands," Powers added.
We look forward to continuing our relationship with McDonald's for decades to come and playing a small role in making future generations of hungry customers smile.