Powers & Sons has had some great student interns over the years. Internships are a win-win: they give us extra hands during busy summer months and provide students with real-world experience. When the first year goes well, we invite them to come back. Here are two of their stories.
Chicago Office:
Maliq Cherry, Ball State University
Maliq Cherry is an architectural design major completing his second Powers & Sons internship. Interested in a career that positions him to be the change he wants to see in the world, Cherry is passionate about repurposing abandoned properties and improving quality of life for inner-city residents.
"Abandoned buildings still have potential, from my perspective, which drew me to architecture. How can we redesign these properties to boost local economies, provide access to fresh food, and bring jobs to the neighborhood? Those are the kinds of projects I ultimately hope my career will focus on," reports the Merrillville, Indiana native.
Cherry says his Powers & Sons internship has provided unique opportunities, like working on the Obama Presidential Center (OPC) project and meeting the nation's former chief executive.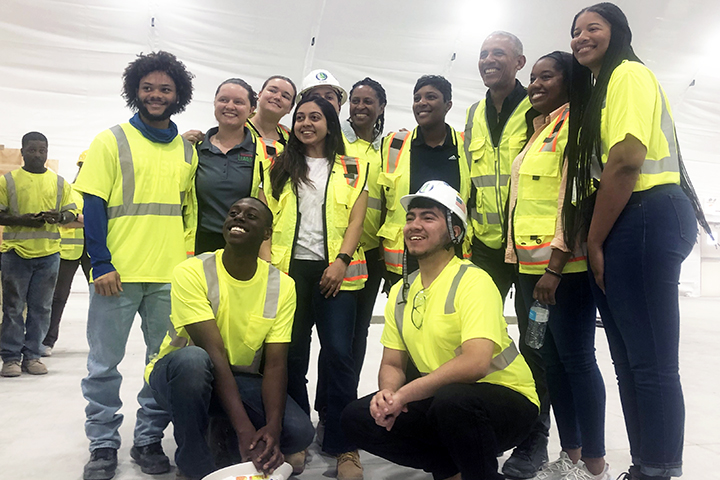 "I couldn't believe I was on site when President Obama visited this summer. He took time to meet the crew, shake hands, pose for photos, and thank us for the work we've done so far. It was a little overwhelming, but I was smiling from ear to ear," Cherry says. "It inspired me and encouraged me to believe in myself and my dreams."
Also interested in commercial and industrial architecture, his 2022 internship is focused on the foundations of project management and engineering. Responsible for managing, completing, and tracking subcontractor submittals and RFIs as part of the preconstruction process, Cherry is learning about the mechanical, electrical, and plumbing (MEP) components required in the project specifications and design drawings.
"In the classroom, I learn to create building structures and select the appropriate building materials. In the internship, I am seeing intricate systems as they are installed and hidden in walls, floors, and ceilings. Working on the job site helps me correlate conceptual design with actual context. I'm gaining experience in a range of areas that will help me be a better architect," says Cherry.
Indianapolis Office:
Zahra Malik, Indiana University-Purdue University Indianapolis (IUPUI)
A senior majoring in construction management major with minors in interior design and business, Zahra Malik is also completing her second internship Powers & Sons.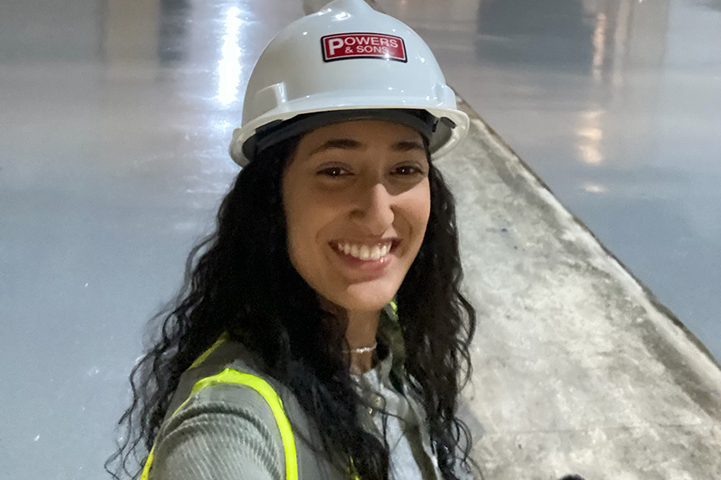 "As a student, I had heard some construction firms don't really value interns. From my first day at Powers & Sons, I knew I would enjoy the experience. As a family-owned business, I felt like they cared about me, each other, and doing quality work."
During her first summer with Powers & Sons, Malik worked in the Indianapolis estimating department for several weeks, then went to Chicago and worked on the Friends Health job site. "That on-site experience was my favorite because I learned a lot about how things are executed on the job—not just how they look on the specs and floor plans," she says.
This year, Malik is serving on the MSD Wayne Township K-12 school improvement program team. She supports the project manager and engineer with managing construction documents, drawings, and samples.
"I'm interested in the details and complexities of construction. I like the flexibility of the field because there are so many different options. I'm a hands-on person, so construction fulfills that side of me." She is also interested in residential construction. "Growing up, I would help my dad renovate and fix-up old homes so that he could rent them. I would love to somehow get back into that and start buying houses and fixing them up."
As she prepares for a career in a largely male industry, Malik sees good things for women who want to join the field. "Honestly, I was surprised by the number of women I've met in the field and in the office. I think we have come a long way and the future for women in construction only looks up from here."