Powers & Sons was selected by Rebuild Foundation as the general contractor to transform the dilapidated former St. Laurence Elementary School into a new community arts center.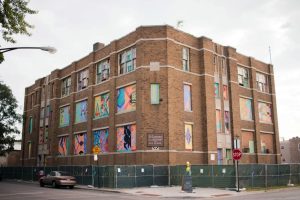 The Design Vision
Created by artist and social innovator Theaster Gates, Rebuild Foundation is an artist-led, community-based platform for art, cultural development, and neighborhood transformation.
It provides free arts programming and amenities to revitalize inner-city neighborhoods. It also helps artists scale creative ideas to build income and operate arts-based businesses.
Gates combines his expertise in urban planning and art to preserve Chicago history. Rebuild Foundation also operates the Stony Island Arts Bank, the Dorchester Art + Housing Collaborative, and Kenwood Gardens.
St. Laurence School has been a South Shore landmark for decades. Many of the original materials, finishes, and architectural features are being preserved in the Muller & Muller design.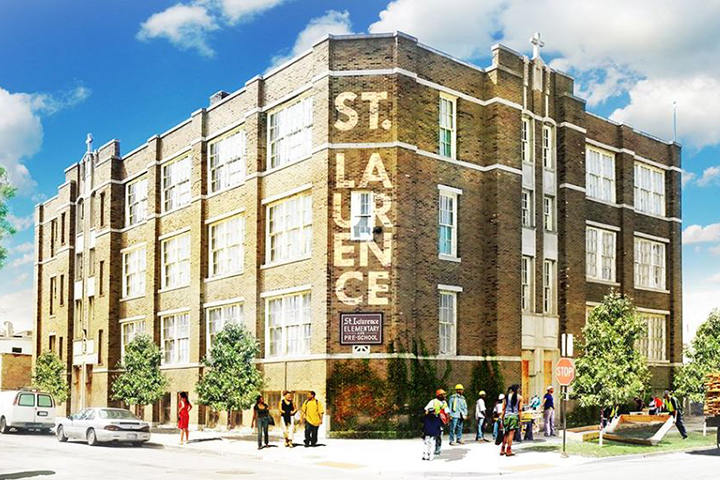 "The design reflects the building's historic character," explains Project Manager Rob Kennedy.
The gym will become an art exhibit space. Original plasterwork around the stage and decorative brick wall veneers are being repaired and restored. Ceilings will be left exposed.
The Rebuild Foundation's Construction Project Manager is Shirin Shahin. "Shirin is onsite daily and is our go-to contact as we execute the work," notes Kennedy. The foundation's eyes and ears, Shahin has been integral to the project since its inception.
Project Management Approach
Renovating a structure that has been vacant for 20 years can come with a few challenges. According to Kennedy, the bones of the structure are strong, with sturdy concrete beams, decks, and masonry exterior. Structural repairs have been minimal.
New building components, including mechanical, electrical, plumbing, and fire protection systems, are being installed along with new exterior windows, flooring, and other materials. The entire building will be updated and modified for ADA compliance, including a full elevator system to reach every floor.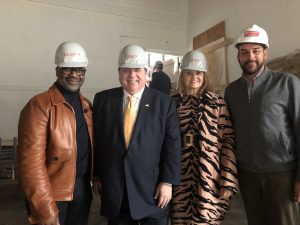 Preconstruction services began in 2020 followed by the start of construction in April of 2021, with Powers & Sons self-performing some of the carpentry and interior demolition.
In total, about 25 Chicago subcontractors representing all trades are expected to be utilized on the project. At least 50% of the on-site workforce will be City of Chicago residents. In addition, the work will meet 35% MBE and 15% WBE participation goals.
Powers & Sons Superintendent Chitan Bibbs and Project Engineer Megan Andres are also on the team.