Powers & Sons Indianapolis is leading a Construction Manager as constructor (CMc) project to build a new 207,000 SF middle school at 91st Street and College Avenue. It will serve Metropolitan School District (MSD) of Washington Township sixth through eighth graders.
The project will provide faculty and students with a modern, secure facility for teaching and learning. It will feature ample green space with walking trails and heritage trees to be enjoyed by local residents.
Project Executive Les Carroll says the team is making steady progress. "Procurement was an early focus. Buying essential materials like concrete, cement, steel, lumber, insulation, drywall, and HVAC equipment since the pandemic required good long-lead strategies and constant monitoring of supply chains and deliveries. We adjusted sequencing and scheduling as needed."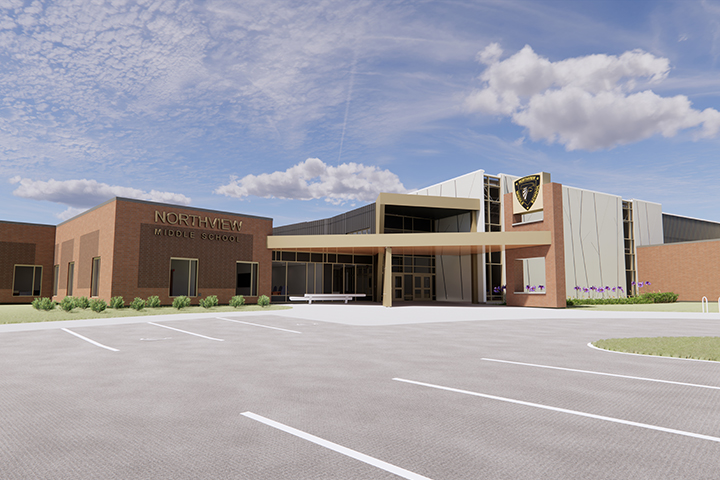 Bidding & Value Engineering Strategy
Chris Kerns, director of estimating, led the preconstruction effort to make value-based decisions. "We began issuing bid packages a year after the initial COVID-19 outbreak. The market was volatile, and costs began to rise so the team focused on outreach," says Kerns.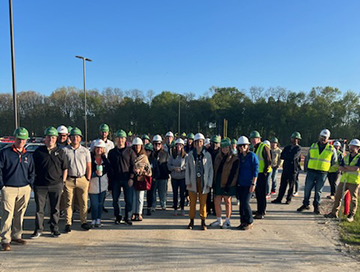 Community engagement partners included Winston Terrell Group and Nubian Construction, who helped the project team with a virtual outreach session, phone calls, and talking with dozens of subs in all the trades.
Nearly 140 bids on 27 bid packages were received, averaging five bids per category, which Kerns notes is nearly unheard of in a post-pandemic construction world Many first-tier subcontractors have one or more second-tier subs working for them.
When all scopes were purchased, Kerns says the final GMP was millions below what had been allocated. "The owner was able to shift those funds to mitigate cost over-runs and escalations that were happening as conditions grew more unstable."
Little did the team know how volatile the market would become. The same school today would cost over $85 million.
Design Approach
Key factors for Schmidt Associates and the design team included flexible spaces, dedicated collaboration spaces for teachers and for students, intentional safety zones with planned entry points, technology infrastructure, and lots of natural light.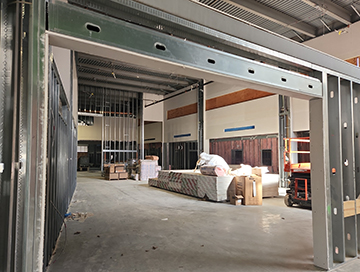 Efficient parking design separates bus and passenger vehicles. Passenger vehicles have a dedicated student pick-up and drop-off spot.
The building is organized into zones that provide clear definition and control between academic spaces and event/community spaces.
A main public corridor connects interior spaces, which are organized along a path that can be locked down for security.
Teams of students will learn in grade-specific pods. Teams within the pods will share school and building resources.
Grade 8 students will be housed in a two-story wing on the east side of the school with students in other grades in a single-story wing on the south side of the building. Project Lead the Way will have classrooms near the pods.
A high-tech media center with library and maker spaces is at the heart of the building.
The school will also feature a music suite with band, orchestra, and choir support spaces and practice rooms adjacent to a performance platform in the cafetorium.
With retractable seating for 500 and special acoustical treatments throughout, the cafetorium has a separate event entrance and corridor.
On the opposite side of the school, the main gymnasium can accommodate up to 500 spectators and includes full-size basketball and volleyball courts. The auxiliary gym will have similar courts with seating for 400.
Throughout the building, the decor will celebrate the neighborhood and reflect a palette that includes the school brand and colors.
CMc Project at a Glance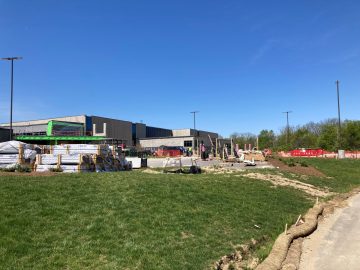 Practicing equitable procurement and including a diverse workforce is a priority for this CMc project. The XBE spend to date is $13 million or 27 percent of subcontracted work.
MEP systems are Energy Star Certified, with indoor air quality standards and low water usage key design considerations. Energy-efficient LED lighting will be installed inside and out.
HVAC features include single- and multi-zoned VAV systems, vertical unit ventilators, air-cooled chillers, and boilers.
Approved through a 2020 Washington Township tax referendum, the Northview Middle School project is part of a larger $418 million initiative to fund district-wide capital improvements and increasing operations costs.