Lakeside Alliance team members, including representatives from Powers & Sons Construction, who were working on the Obama Presidential Center (OPC) site last week received a surprise visit from the man himself, President Barack Obama.
What began as a typical June 24 work day became more exciting when a Secret Security detail rolled up. The nation's former chief executive visited the Jackson Park job site for the first time since its September 2021 groundbreaking.
President Obama spent about 30 minutes walking the site, saying hello, and posing for dozens of photos. He observed ongoing work to build the concrete foundations and core walls for the massive museum tower and parking garage, then took a few moments to thank everyone for their efforts.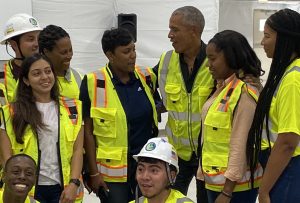 College student Maliq Cherry, working his second summer as a Powers & Sons intern, said the experience was moving.
"I was smiling from ear to ear. We couldn't believe President Obama was actually on site and took time from his busy schedule to thank us. It was inspiring—and it encourages me not to give up on my own dreams and the things I want to accomplish in life," said Cherry, a native of Merrillville, Indiana.
Obama noted the importance of their work on the surrounding community, which includes Hyde Park and Woodlawn.
"The way the project is being managed and designed will help the community flourish. The OPC will provide local residents with improved access to information, knowledge, and cultural experiences. President Obama is determined to leverage the project as a means of helping people who live on Chicago's south side thrive," Cherry noted.
About 100 team members were present during the visit. They now have a memory to last a lifetime. Watch the Obama Foundation's video on YouTube.
For construction news and updates, visit obama.org/the-center/construction and lakesidealliance.com. Page photo credit: Obama Foundation.