Powers & Sons has relationships with a number of banks and financial service firms. Over the past decade, we have partnered with U.S. Bank and their representatives at Jones Lang LaSalle (JLL) to deliver about one dozen new construction and major renovation projects.
Our most recently completed U.S. Bank project is located in Chinatown Square. More than one third of Chicago's Chinese population lives and works in and around this cultural quarter.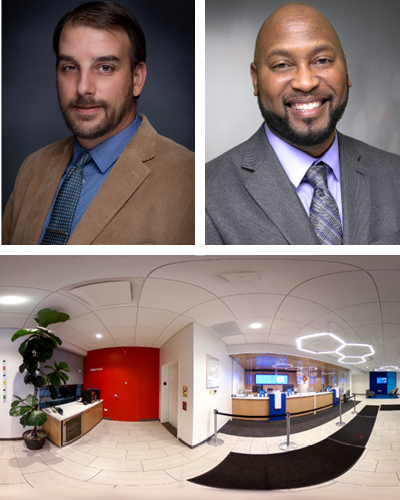 Unlike other metropolitan areas such as San Francisco and New York, residents of Chicago's Chinatown often remain in the area for two, three, or more generations.
The neighborhood has drawn immigrants from China and other parts of Asia for over 100 years. Census data from 2020 show Asian-Americans comprise about seven percent of Chicago's 2.7 million residents.
Powers & Sons was excited to modernize this busy, high-volume bank with renovations that represent the heritage of the community. Signage, graphics, and artwork on the interior and exterior reflect the Mandarin language and Asian culture.
"It was important to U.S. Bank and their design team for the bank to fit the culture of their customers and the identity of the local neighborhood," explains Project Manager Rob Kennedy.
Work on the two-story, 3,175 SF bank was completed over about four months. During construction, safety signage in and around the bank was posted in both Mandarin and English.
Kennedy says the renovations were completed in three phases because the bank remained open during the project period. "We met with the owner's team weekly to sequence our work around their operations and business hours," he adds.
Superintendent Kevin Sparks oversaw installation of new MEP and HVAC systems and new flooring, wall panels, ceilings, LED fixtures, sliding and hinged glass doors, and updated finishes. Kennedy and Sparks coordinated IT and security work with the bank's direct subcontractors.
The renovated facility is now positioned to serve Chinatown Square and local residents for years to come.