Powers & Sons is nearing completion of Governor Park, a new three-story, 71,880 SF apartment community in southern Indiana. Located in Ellettsville, the housing is designated for low-income seniors and adults with special needs.
Apartments include 70 one-bedroom, one-bath units at 675 SF each and 20 two-bedroom, two-bath units at 857 SF each. Some units are ADA compliant, with others adaptable for residents with mobility challenges.
Two wings connect to a central common with fitness center, community room, laundry, and business/computer center. Surface parking accommodates 100 vehicles.
Although not a LEED project, the development utilizes energy-efficient appliances and meets other green building requirements, including above-average insulation in the roof and walls.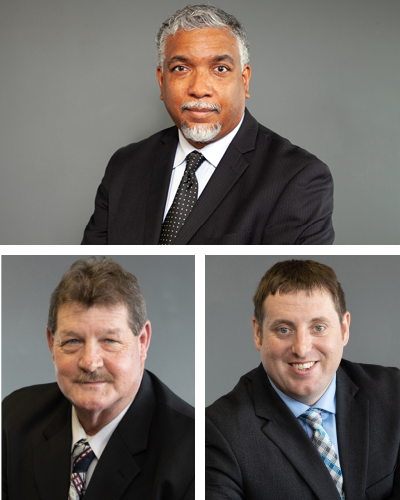 COVID-Related Delays and Price Increases
Senior Project Manager Russell Lewis says preconstruction planning focused on value engineering to keep the project within budget.
"The original budget and design, completed before COVID caused price increases and supply chain challenges, called for exterior balconies and a cost-prohibitive central heating and cooling system. By recommending alternatives and design modifications, we reduced costs substantially and brought the project within budget," Lewis notes.
While there were significant material delays, the Powers team worked around them.
"Lumber availability was a serious challenge with a delay of about 45 days. Delivery of roofing material from the manufacturer was also delayed. When framing was complete, we installed a temporary roof to shield the interior from water infiltration, which kept work moving until permanent roofing materials were available," says Lewis.
Creative Solutions Kept the Project on Track
Other creative solutions were implemented to make progress.
"We normally build apartment buildings one floor at a time in sequence. Because of material shortages, we took a different approach. In analyzing the structural design, a central firewall provided a natural demarcation point. To avoid having to shut the job down until supplies arrived, we proposed working in halves. The owner approved, so we built the right side first then the left side. This enabled us do the rough-ins sooner and kept us from losing more time."
Site work included removal of existing infrastructure on the property, which was a former mobile home park. An underground storm water detention system to collect run-off and release it slowly was installed.
Although not a requirement, local Monroe County subcontractors were utilized when possible. Lewis says developing smaller scopes of work for local firms whose companies are based in Southern Indiana also kept costs down. Powers & Sons has managed over 30 subcontractors, not including material suppliers, for the project.