Powers & Sons Vice President Kelly Powers Baria and Superintendent David Nicholson are featured in a May 2023 episode of Built to Last, a program sponsored by the Mid-America Carpenters Regional Council and broadcast on WGN Chicago.
Several of the team members leading construction of the Obama Foundation's new Obama Presidential Center (OPC) in Chicago are interviewed, including Obama Foundation staff and members of the Lakeside Alliance team, which includes Baria and Nicholson.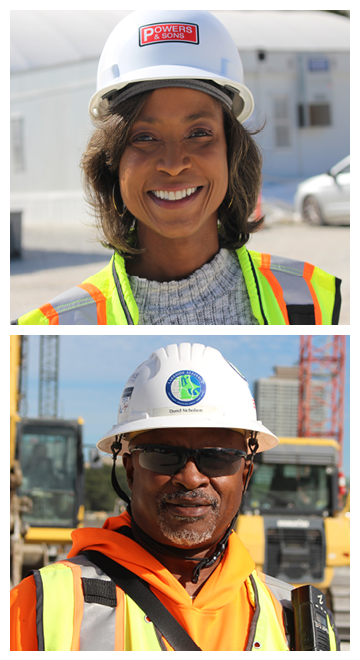 Nicholson notes the Mid-America Carpenters Regional Council provides valuable educational and leadership training for apprentices. He says, "I thank the president for bringing the project to the community that he came from. There is only going to be one [Obama Presidential Center] and I'm grateful to be a part of it."
The new OPC was intentionally designed for and will blend with the community. Many spaces will be free for local residents and the general public to enjoy, says Baria.
She believes that four minority-owned contractors forming an alliance with a majority contractor so they can all work together, rather than compete against each other, is unprecedented in Chicago. "We thought that for something as significant as the nation's first Black president's legacy library, we needed to approach the work with a different frame of mind," Baria says.
"When you have a project that is as once-in-a-lifetime opportunity as this, it has the ability to change the trajectory and change the lives of so many young people when you can put the project on your resume," she adds.
Watch the segment to learn more about the OPC project and how it will have a lasting impact on the south side of Chicago and local residents who live in the Jackson Park area.