Powers & Sons Construction was recognized by Mayor Joe Hogsett and the City of Indianapolis Office of Minority & Women Business Development (OMWBD) in February as its Certified Vendor of the Month.
The mayor and OMWBD representatives presented President Mamon Powers III with a framed certificate of recognition and spoke with members of the Indianapolis team.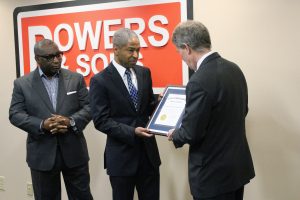 Reporters and photographers from local media outlets were also in attendance. WISH-TV broadcast an interview with Powers in which he discusses the family business and history. The segment is part of the station's Business, Equity, & Opportunities series.
In a news release issued by the city, Mayor Hogsett noted, "Powers & Sons Construction has been involved with some of our city's largest and most beloved 21st century projects, including portions of the Indiana Convention Center, Indianapolis International Airport, and TCU Amphitheater. But their legacy stretches back decades, making them a longstanding pillar of both Hoosier construction firms and the Black-owned business landscape of Indianapolis."
The mayor also noted that Powers & Sons' Indianapolis office, which has tripled in size over the past ten years, is actively engaged in serving the community through partnerships with organizations like Indy Parks & Recreation, Citizens Energy Group's Sharing the Dream program, and MSD of Lawrence Townships annual "Do Good Day." He also cited the company's dedication to youth development, including over $550,000 in needs-based and other college scholarships for deserving students, including those pursuing degrees in construction, engineering, and architecture.
Accepting the honor, Powers said, "When my grandfather started our business, all he wanted was to be a good contractor and give back to the communities we serve. I am proud that 56 years later, striving to be the best and giving back to the community is core to our culture."
Headquartered in Northwest Indiana, Powers & Sons was incorporated in 1967 as a builder of single-family homes. In the early 1980s, it transitioned away from serving residential homeowners into commercial construction, opening a Chicago office in 1985 and an Indianapolis office in 1992.