Women like Vice President Kelly Powers who work in the construction industry are breaking ground and barriers. Kelly is one of 65 professionals featured by Crain's Chicago Business in April as "2021 Notable Women in Construction & Design."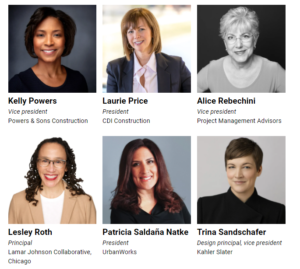 The women recognized this year are leaders in every aspect of the construction industry—including design, site selection, and project management and administration—with specialties in a range of construction sectors.  They represent a diverse cross-section of architects, engineers, subcontractors, general contractors, construction managers, and consultants.
To qualify for inclusion, honorees must be employed in a construction, architecture, engineering, or commercial design firm, have worked on significant projects during the past 18 months, and have striven to advance women in the field.
Click here for Crain's complete 2021 list of the women recognized. Note that a subscription is required to access the individual profiles published for each honoree.
Also in 2021, Kelly was appointed to the Chicago Architecture Center (CAC) Board of Trustees. Formerly known as the Chicago Architecture Foundation, the nonprofit group offers tours, exhibits, programs, and events that inspire visitors to discover why design matters. Established in 1966, CAC is the city's leading organization devoted to celebrating architectural innovation.