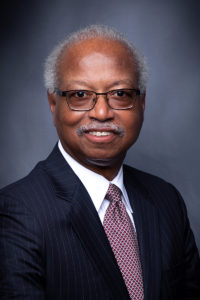 CEO & Chairman of the Board Mamon Powers, Jr. was featured on a panel discussion titled the "Social Impact of Black Trailblazers in Engineering" hosted by Purdue University on February 24.
The Black Trailblazers in Engineering (BTE) event is part of a required four-day 2021 workshop for applicants seeking one of 25 seats in Purdue's initial class of BTE Fellows. Applicants are Ph.D. and post-doctoral engineering students.
Mamon is a graduate of Purdue University's School of Civil Engineering. He represents the second generation of the Powers family to have successful careers in the engineering, general contracting, and construction management industry. He was appointed to four terms as a member of the Purdue University Board of Trustees. He holds an honorary doctorate from Purdue in civil engineering and is recipient of the Distinguished Engineering Alumnus Award and the Civil Engineering Alumni Achievement Award.
The moderator and panelists were all Purdue University engineering graduates, faculty, and administrators. The goal of Purdue's BTE program is to prepare future trailblazing faculty in engineering with a focus on preparing outstanding scholars who are also committed to increasing the success of Black engineers.